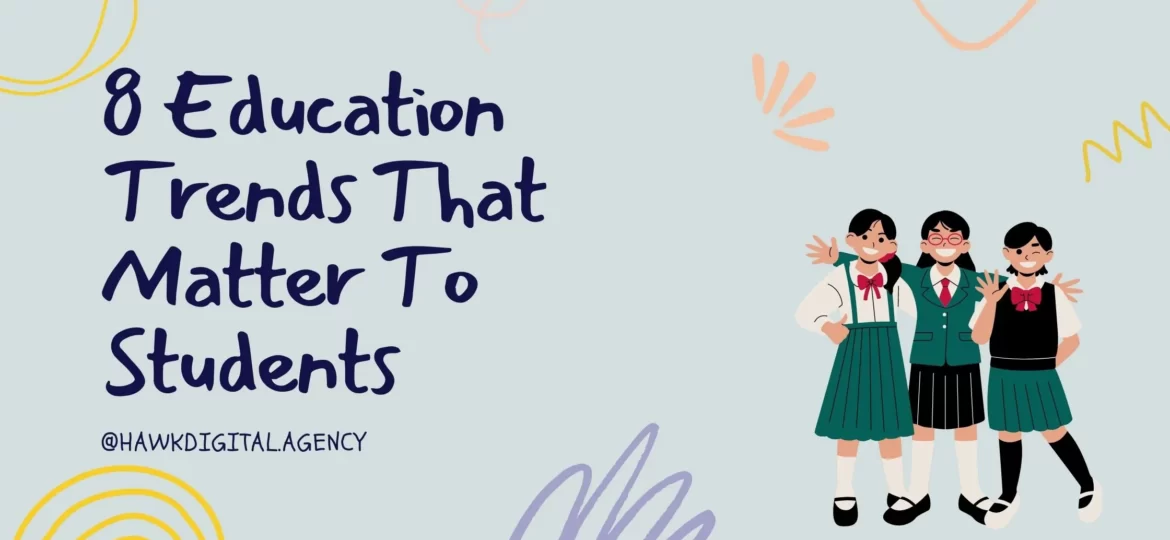 Changes have become an integral part of everyday life, and adapting to changes is a necessity. The evolving nature of education is unpredictable, and here are 8 Education Trends that Matter to Students.
Students and teachers have a lot resources to learn and educate themselves with. They also have technology to broaden their knowledge and awareness about the global world and concepts not schooled. The expectations that come with education shifts leading to the emergence of new trends. 
These changes affect institutions leading to a change in their approach to higher studies to be creative and innovative. They also try to retain the academic standards.
The Education Trends that are mentioned matter to present-day students and keep changing and evolving for the betterment of education. 
Real-World Experience and Continuity of Education
Due to high demand in domains of hands-on educational options, universities and colleges are offering courses that provide students with practical along with real-world experiences entwined in academic learning.
There is a demand for real-time experience because of the increases competition in the work force. Students their existent skills to be improved so that it can be useful in the workplace and also learn skills that can help them change their career paths.
This need of students has driven colleges to offer flexible learning options and degrees to include not only real-world experiences but also working students. There are new degrees and certificates of special courses, offered to students that are qualified with necessary individual skills and are ready to enter the workplace.
Technology
Technology, digital devices like mobile phones, laptops and tablets are are inducing drastic changes in the education field. This makes it an education trend that matters a lot to students.
Institutions are opting for digital devices like tablets, laptops and smartphones to transfer and impart knowledge. It also increases connectivity and encourages and improves collaboration among students.
Students can also use previously taken recordings of lectures and classes of professors for future reference as well as doubt clearance and study through tablets and phones. 
It has greatly helped distance learning among students and people who want knowledge from certain subjects, especially during present times like the pandemic, online classes or courses are accessible and feasible. Students from remote areas who can't access long-distance institutions can attend classes and work in internships real-time.
Fun and Engaging Learning
The improved exposure to the outside world is changing the way students expect classroom teaching happening in their educational institutions. It means instructors using innovative methods like visual cues, audio and virtual reality along with gaming methods to make the learning process enjoyable.
In the present day and age, sitting in four hour-long lectures is too tiresome and also reduces the knowledge intake of a student.
Interactive experiences help mostly with knowledge retention compares to the knowledge intake with no retention.
Individual institutions and classrooms have taken a turn in student instructor roles, with students gaining necessary knowledge on their own through methods they are comfortable in so classrooms are used as an assignment and discussion forum with the guidance of instructors.
Online Courses
Online websites that provide certified programs that help develop specific skill-sets has improved distance learning for students.
Students pursuing such options has increased a lot over the years, and many institutes are prompted to offer such online degrees.
Studies show nearly 30% of students pursuing higher studies have also opted for at least one of such online programs.
Time flexibility and accessibility can be a major reason for the growth of online courses and distance learning. People who are busy and can study part-time as they work are given the comfort of choosing when to complete the course along with time flexibility. 
Online learning has a lot of advantages over in-class paradigm where students only get limited courses and no time flexibility. They have access to learnnew topics and domains which were not accessible before.
Personalization
Institutional teaching methods are strict and rigid, focusing only on academics. Online courses have changed the focus to individual students. Oniline courses also have zero compromisation on the quality of knowledge imparted to the people.
Students can explore new ways of learning, personalized to their needs,timing as well as  requirements. 
Institutions have been responding personalization factor by improving and welcoming feedback from the students. They are also using technology more to generate individual lesson plans shifting focus to individual student attention. However, these methods are far from catching up with the online courses.
Offline Institutes still need new reforms and flexibility for catering to student needs and individual focus.
Learning Abroad
Even as students have the access and use of distance learning classes and online courses, many are looking to study in institutions abroad rather than in their own country.
The number of students choosing to study abroad is growing and is expected to increase much more in the upcoming years, especially with Institutions attracting international students.
Exploring New Countries
Exploration of new countries has become an important education trend that matters to students. Over the years, The united States and The United Kingdom seem to have been the top choices for students. However, with the improvement of technology and a personalised look into global education platforms students are looking at new countries for higher studies. They are easily able to find the courses and specializations with the right countries with he help of the internet.
Countries with new and exciting courses and programs, along with great opportunities that students search for these days include:
Australia
France
Japan
Canada
Germany
Italy
Russia
China
New countries are being explored also because of increased visa restrictions and immigrant rules in traditional destinations. These new and unique have improved education and better offerings as well as opportunities compared to the old ones.
Employment Opportunities
Education seems to be getting more expensive and difficult to afford over the years. However higher education is a dire necessity for success financially and in life. 
Sadly not all countries and educational institutions are on the same level when it comes to job opportunities, post-graduate or under-graduate.
Students are beginning to looking for institutions and degrees that provide a career service, job placement and various programs that can help provide long term value to their education.