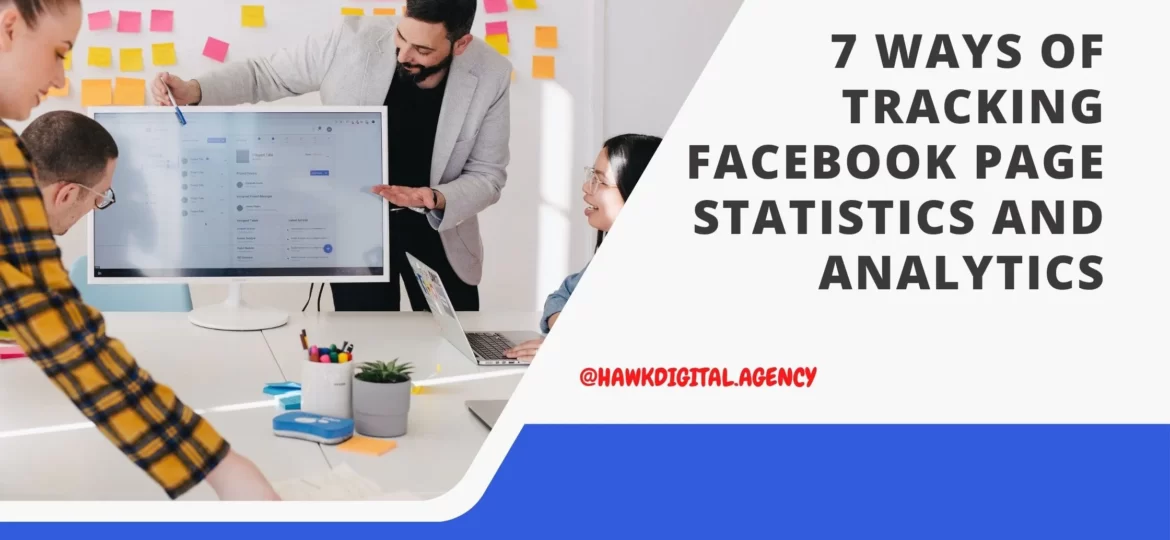 7 Ways of Tracking Facebook Page Statistics and Analytics
In a world where social media do most of the products bought by online marketing, Facebook plays a crucial role. The critical function is so because many people tend to buy more products on Facebook than average sites. Facebook gives a tremendous amount of data. We explain 7 Ways of Tracking Facebook Page Statistics and Analytics.
The tracking of statistics and analytics can benefit you and your company as the performance on posts. Audience demographic features are the best part of Facebook marketing. Knowing that this information exists is not enough. One must also learn how to use this information to increase more audience and what role is played by statistics and analytical techniques in online marketing.
Real-time analytics
All of us know that Facebook consists of a 'like' button. But only a few people know how to convert these likes and use in strategic planning for further posts and products. Real-time analytics makes this possible. The Facebook analytics tool helps you see your audience growth and the likes and follows of the page. This tool allows you to put numbers into a readable and straightforward report so that you can navigate how many likes a post has. According to this information, you can easily plan how to design posts should be designed so that more people are interested in it.
Facebook Grader
Facebook Grader is a tool that helps to analyze Facebook-business accounts by using a combination of the best tools available to grade your page and posts. It helps to target different types of audiences according to your needs. Facebook Grader also helps provide specific platforms and placements that you can use to get more followers and likes on your posts. One of the main available features is how the account stacks up against different competitors for the same product. It becomes an essential analytical technique to increase your products' efficiency according to the reports. The tool points out the potentially mismatched campaigns and goals. This helps in creating realistic goals as well as will help starting campaigns that are related to the brand and its products.
Webtrends
Webtrends is a tool to track details in-depth and is thus mostly used by medium to large companies. Since the tool helps create an in-depth report compared to others, it is also known to be one of the most expensive analysis tools. Webtrends main feature is that you can link your various social media pages with Facebook and compare how well the runners are doing. This feature makes the device expensive and provides the perfect statistics that can you can use to plan further actions for posts and product release. Webtrends is an essential Way of Tracking Facebook Page Statistics and Analytics.
Social Bakers
Social Bakers is a tool that is free of cost and is very easy to use. You can link your Facebook account to the agency to unlock some great features that will provide you with certain information such as users' demographic information. The demographic information becomes vital so that the posts can be relevant and customer-friendly. Also, age is one of the factors that you can see as to be an essential part of interest. If a particular age group likes a specific post, you can also create the post's content to attract more audience of the same age group and thus provide exposure.
Worth of your page
Worth of your page is one of the essential things that a brand must know to understand how much they can invest in a particular social media platform. There is no such tool that might help you understand your page's exact worth but can help you estimate it by the number of likes and followers on your page. The more popular you are, or the more shares a post has, it reaches a larger audience and can help a brand in various ways.
All Facebook Stats
You can use the Facebook app to know some detailed information about your business page that might help you with statistical reports. Some information that might be available are:
When the traffic is more
How many users visit the page regularly
How many users see the page every day
What is the average time that is consumed by users of your page
Which is the most liked post of your page
How many people view your Facebook stories and find it interesting
How many people view the link in posts and stories
Wildfire app
Wildfire can be a great application that you can use when you have to compare many Facebook pages. Approximately, at a tie, three pages can be reached using the application. It's a great way to know where a particular page or brand stands compared to its other competitors. Using this analysis, you can easily understand how you want to increase the users or the likes of a post. The application will also help you to make your posts more user friendly and useful. 
These are some applications or tools that you definitely should use when you want your Facebook page to be popular and have more followers. As I mentioned above, most online marketing you do use social media applications. Thus, it is necessary to know your social media presence regarding digital and online marketing. Social media applications like Instagram, Facebook and Twitter are perfect examples of how much online marketing has grown over the years and will grow in the coming years. To maintain the right presence in these applications, it is necessary to understand the users' needs using the application daily for marketing purposes. By this, you can prepare an analytical or a statistical report to increase your brand's popularity.