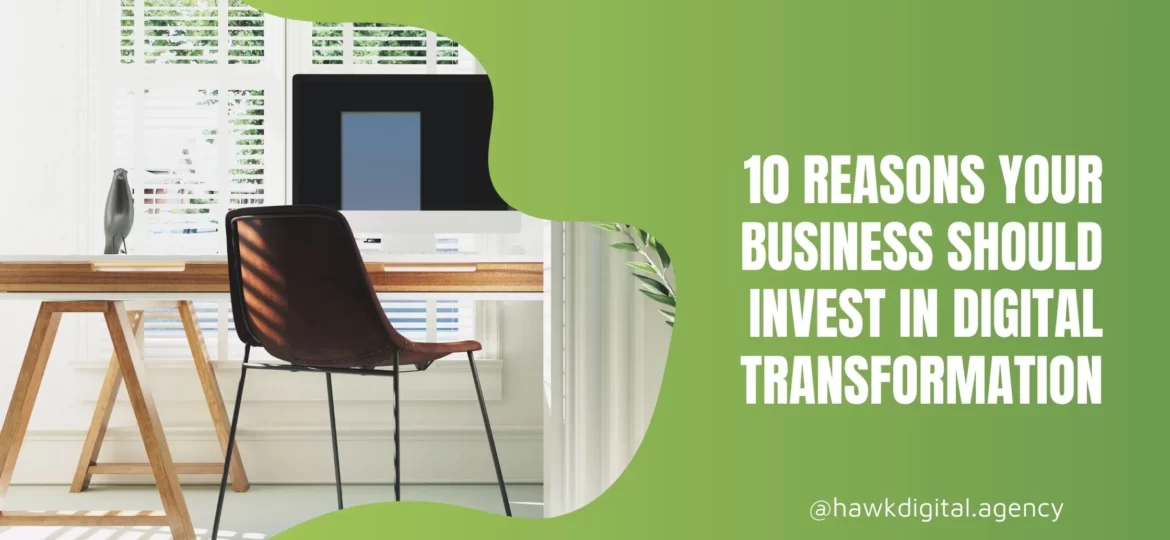 10 Reasons Your Business Should Invest in Digital Transformation
Irrespective of sector or market, it is essential to succeed in today's commercial frontline, accepting innovations, developments and cultural changes. Here are 10 Reasons Your Business Should Invest in Digital Transformation.
If your company is trying to build a prosperous business future, spending lots of time, capital and resources in your digital transformation plan is a smart decision.
Experts expect that investment in digital development projects would break $2 trillion globally by 2020. This is a tremendous amount of spending by businesses across industries. Here are ten statistics that will inform your company of the need to invest in digital transformation to inspire your efforts.
Consumer Culture
80% of today's content use is focused on video. Print media, though still important, is a less dominant force than it once was. Today's hunger for the multimedia content is fundamentally digital, and to relate to your target audience. You need to have compelling video-based marketing materials. Online networks and touchpoints are the perfect way to provide this kind of connectivity.
Today's regular college student has never licked a postage stamp so much. Analogue approaches to promotional and organizational contact can seldom yield the outcomes you need for success in the digital native era.
The State of Digital Transformation
76% of businesses believe that their interaction with technology and digital transformation is usually average or above average. The vast majority of companies across industries are on the road to digital transformation. If you refuse to accept the modern era and all that it has to offer, you could slip behind the pack and face being redundant in the long run.
Approximately 70% of businesses believe that their CEOs' realistic perception of new technology innovations is acceptable or above average. If you find like your knowledge of digital methodologies and technology is incomplete in the digital age, now is the time to get up to date.
Sixty-one per cent of businesses say that the Internet of Things (IoT) plays a crucial role in their digital market plans, with engineering and high-tech leading all other industries. Through investing in the power of IoT and its business-enhancing advantages, in addition to a host of other new digital innovations, you can boost your market growth, exponentially.
The Power of Digital Transformation
Fifty-six per cent of CEOs feel that digital developments have already contributed to sales growth. With this being the main objective of market development and acceleration, this is a compelling argument for engaging in digital transformation.
By 2020, a will digitally impact 47% of all sales. Without a doubt, emerging technology will get much more advanced in the not-so-distant future. To remain essential and continue to promote growth, accepting emerging technologies' potential is now a requirement rather than a far-flung privilege.
39% of today's advertisers aim to increase their digital investments without increasing total ad spending, effectively reallocating their existing budgets to digital platforms. The wealth of digital networks, forums and touchpoints open to today's companies is on the rise, and by engaging in those sources, you can enjoy a safe degree of ongoing market growth.
More than 50 per cent of the world's population is under the age of 30-As more than half of the population is under the age of 30, there are more digital natives (or even budding digital natives) than ever before. Continuing to cater to this emerging wave of digitally driven customers, continually engaging in digital transformation is essential.
Conclusion
Digital transformation is the most viable way of economic growth now, tomorrow and over the long run in the future.
If you haven't already done so, you must accept the unrivalled strength and promise of digital transformation now, before it's too late.