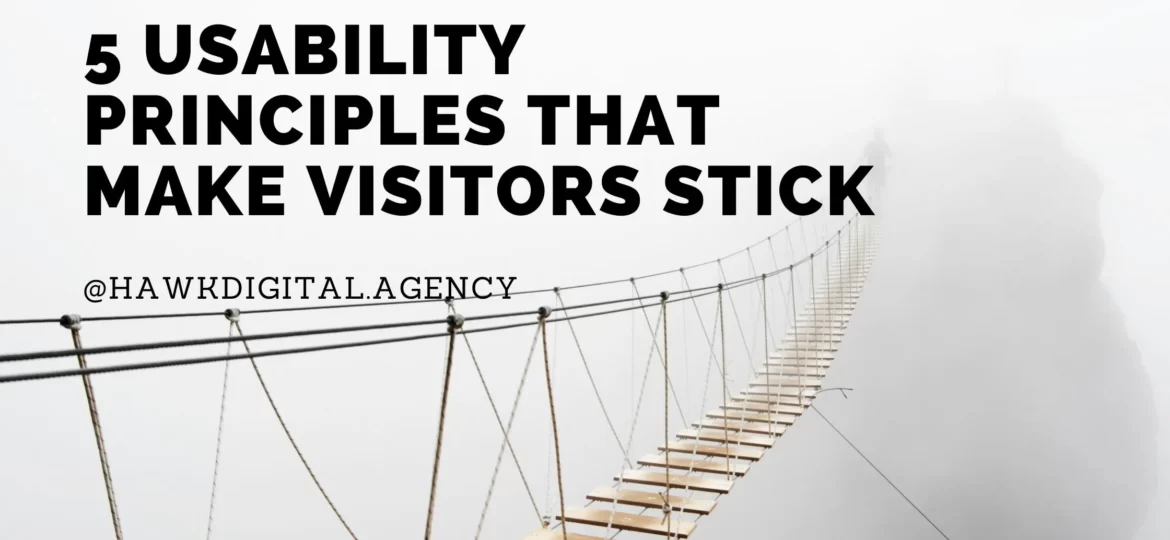 Sometimes you might find your site to have a good ranking. Still, the business doesn't go well, which may be because unknowingly, you are losing potential customers, maybe because your website isn't encouraging or user-friendly. You need USABILITY PRINCIPLES THAT MAKE VISITORS STICK.
Search engines want to serve content that meets users' needs, making the user experience an essential part of SEO.
Good usability and easy navigation are crucial to making visitors stay in your site and boosting your SEO.
Contact Hawk Digital for professional and expert SEO services for your business and it's website.
Here are five easy usability principles that can make visitors stick:
Mobile-friendly:
Many businesses lose potential customers because their website does not cater to mobile users. Mobile users not only browse through sites but also make monetary purchases.
A significant portion of global web traffic is through mobile users. Making sure your website is mobile-friendly can cater to millions of potential customers worldwide. 
Attainable and Accessible:
Your website must be accessible, available, and attainable for customers. Hard accessibility can frustrate people leading them to choose another site over yours.
Ensure your website is user-friendly and easy to understand and access, so people are drawn to making purchases.
Clarity:
When your content is not straightforward, customers are distracted from the actual goal and tend to leave. Content in your site should not be cluttered.
The clarity of the website helps customers find what they need easily and quickly. 
Learnability:
When a user opens your website for the first time, it must not be difficult for them to find what they are looking for.
The design of your website's interface should be in such a way that the user needs no instruction to purchase what they want. Or you can provide the first-timers instructions about navigating through the site.
Credibility:
Trust is the basis of any business. If your site provides products your customers are looking for, but if the customers do not trust you, your business and its contents are of no use.
It would be best to let people know your site and the products are real, so be honest, precise, and accurate about the financial domains and the products.