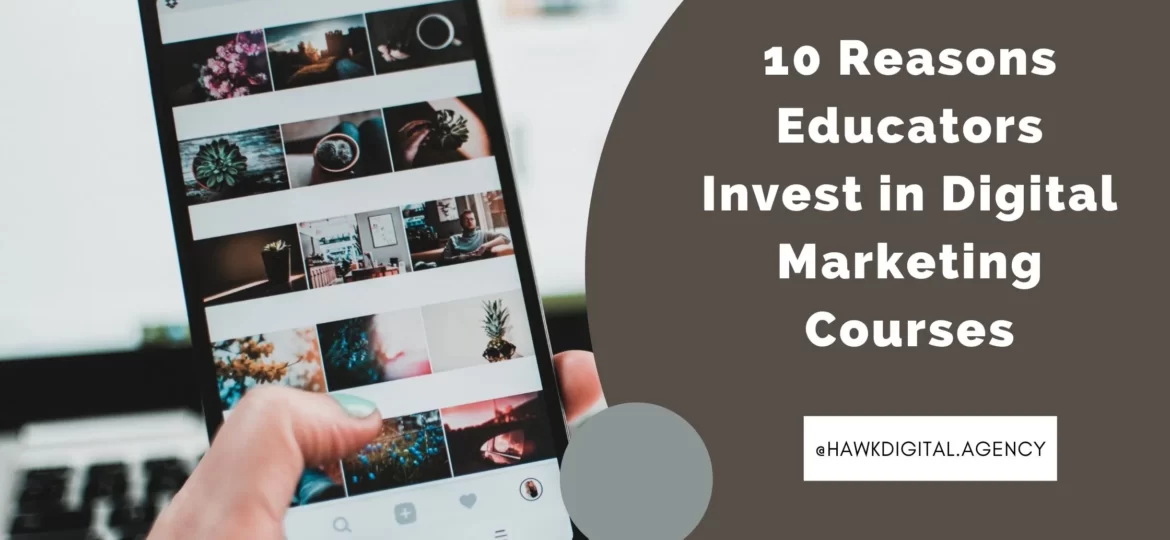 Digital marketing is a unique and upcoming skill that has a lot of variety. The internet era gives a lot of potential to the digital marketing domain, and here we give 10 Reasons Educators Invest in Digital Marketing Courses. Over the past five years, hiring digital marketers in companies has also increased by 44%.
With the increasing need for workers in these fields, the demand for a digital marketer increases.
Various positions under the digital marketer's name include digital advertising, content creation and curation, and content strategy.
Digital Marketing drives Professional Development
There is a growth in digital marketing hires with a growing need for digital talent.
The area of expertise will continue to be in demand making the jobs permanent. 
In places like the US, Digital Marketing is driving the Professional Development. 
High Demand Skillset
56% of the companies surveyed to hire employers are adding digital marketing to the skills required.
The skills include content creation, SEO, SEM, and lead-generation. 
The hunt for digital marketers will make it very important for people in the industry to be updated and stay relevant and valuable in the continually changing environment. 
Skills Gap
The required skills in traditional marketing and advertising roles have saturated. These skills include research and analysis, as well as product marketing. 
The demand for talent is relatively high compared to the supply, especially in the creative domain.
The skill gap is more prominent in workspaces that have a lack of skills impacting performance. This makes it one of the main reasons why educators invest in digital marketing courses.
Smartphone Invasion
Smartphone invasion is something no one can escape and it has a predominant use in all areas of business and communications.
The global count of smartphone users increases exponentially every day.
Digital Invasion
Digital invasion is the best way to reach an audience. 
Digital marketing job requires to support digital advertising as it continues to grow on social media.
Increased Investment in Digital Marketing
Companies are starting to look at high-quality, meaningful brand experiences that their target audience can relate to. 
Paid ad searches are forecast to dominate ad budgets through display advertising and digital video ads.
Predictions are that media buyers will put money towards online video rather than television.
Demand for Online Marketing Positions
There is a growing demand for online marketing positions. The key roles are:
Analytics
Brand Marketing
Content Strategist
Conversion Role Optimization
Digital Project Planning
Digital media Manager
Digital Marketing strategist
E-Commerce Specialist
Web Design
SEO expert
Third Party Education
Hundreds of third-party training courses are available online providing credentials and certificates the workforce requires its employers to have on their resume. 
With rising expenses in universities and educational institutions, students are looking at other cheaper forms of education.
Online third party courses provide them the skill set and the certification to enter the workforce.
Upon completing these courses, students are ready to fill today's high demand digital marketing positions which makes is a main reason why educators invest in digital marketing courses.
Upskilling and Retaining
Due to the variety of digital marketing domain, finding persons with the right skill set to fill positions has become challenging for business. 
With the challenges of filling updated roles, companies are looking to assist their employees with upskill plans.
They also look to include various forms of upskilling and retaining programs.
Need for Digital Skills
Salespeople require Digital Skills.
Social media's influence has provided an effective channel for salespersons to nurture customer relationships and find prospects.
With a significant portion of the business being done online, sellers need to have their products available digitally.
Incorporating products into social media marketing improvs sales quota considerably,
As the quota increases and sales improve, sales teams will look out for fresh digital marketers with new perspectives.