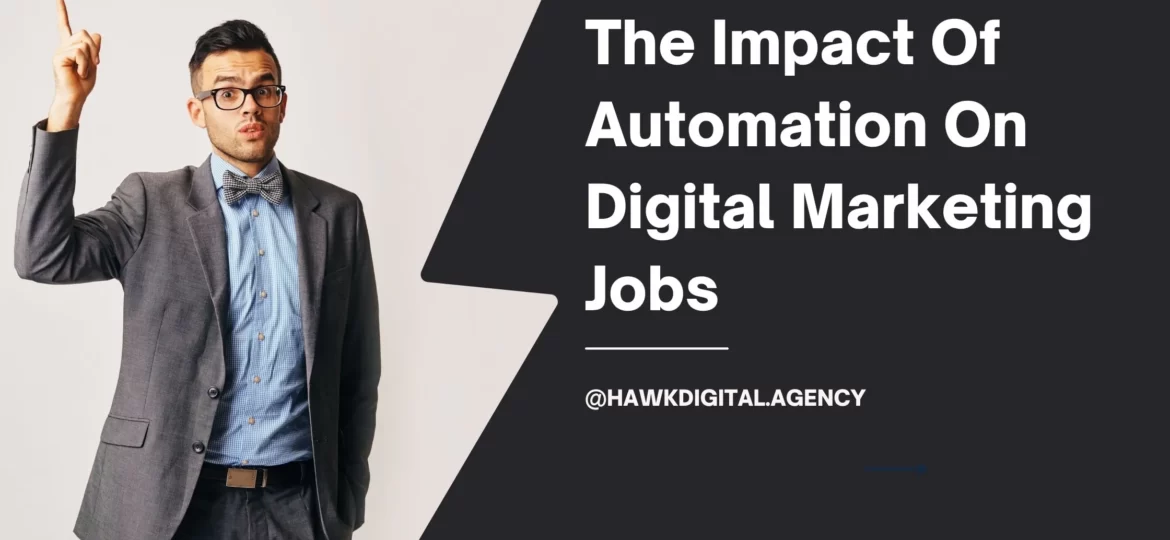 The Impact of Automation on Digital Marketing Jobs
Automation Has Been Replacing Jobs for a While
With the advent of computers to workplaces in the 1970s, the increasing application of this technology in the 1990s, and the mainstream use of the internet around 2000, digital marketing has also undergone several improvements. We give you the impact of automation on digital marketing jobs.
And with today's self-service kiosks and chatbots showing up all over the world, there are lots of explanations for workers in some industries to question whether or not their present work would still exist in the next few years.
As far as advertisers are concerned, the problem is almost the same. Automated outreach systems are increasingly becoming more sophisticated, as AI-based applications such as Siri focus on speech recognition.
There has been some controversy in the past and now about whether machines took jobs or jobs only shifted in nature, encouraging current workers to switch into similar yet possibly more engaging roles as they move away from monotonous employment.
There have been many changes to outsourcing for advertisers, which do not generally see significant employment cuts as part of the aftermath.
How AI Will Change Marketing Jobs
Today, AI and machine learning are genuinely leading marketing tools and can be used for all sorts of operations. Marketers will use them to:
Understand their audiences
Personalize offerings
Streamline content production
Research more deeply
Collect and analyze more massive amounts of data
Apply data quickly to business decisions
Much like most of the past technical advances, AI would generate a market for new skills rather than jobs. We're always going to need staff behind the ad system no matter what. E.g., we need people to write AI communication programs and track chatbot conversations.
Perhaps most specifically, we need someone who will comprehend and communicate the vast volume of data being processed. That is, they can explain, display, and adapt the data to a market plan. This is where predictive analytics can take over statistical or math-related work in some respects, often only computationally. Ses types of AI applications require people to direct and understand them.
According to Salesforce, about half of the 3500 advertisers surveyed are currently using AI, and this figure is expected to see a significant leap in the coming year.
AI can be useful for statistical research, such as lead score, which saves time for sales and marketing teams, allowing for more precise targeting campaigns from both sides. Such is its impact on digital marketing jobs. 
For data collection and analysis, AI can allow people to do other things while monitoring and analyzing different sales and conversion processes.
How Will AI and Automation Change the Customer Experience?
AI's also changing consumer service in a variety of ways. Messenger apps like WhatsApp are becoming more commonly used for customer service than ever before. Chatbots can be used 24/7 and internationally to help answer simple questions or even tailor user experience. They will support and recommend goods to consumers. Although not yet mature enough to have extremely comprehensive responses or cope with controversy, they can take care of necessary customer service inquiries that can take up a lot of time for employees.
Even personal shopping with robotics in-store and by chatbots. Walmart has machines to select items and connect to shopping carts, and this robotic "picking" is in large warehouses like Amazon.
Which Jobs Are Most at Stake?
According to CB Insights, about 10 million U.S. jobs are at risk of automation, and service, manufacturing, and retail staff are the most at risk. Factories have also encountered some after-effects, and just a few years ago, 60,000 employees at Foxconn, the iPhone maker, were replaced by robots.
Of course, robotics take over several facets of shopping, such as e-commerce, because those currently in retail but not adept at digital marketing or willing to try new solutions have careers that are more at stake than digital marketers when it comes to jobs. In finance, AI is increasingly used to make investment decisions, as is the case with Wealthsimple, a Canadian AI-based investment platform.
Content Generation
AI is now taking over some content development and curing jobs, with systems like Wordsmith capable of creating automated content.
Email
AI is used to direct and handle large-scale email campaigns and personalize them, explicitly using data obtained from contacts. There are several automatic email systems out there, and a couple of them use AI to help guide prospective customers in the right way.
Automated Ads
Automated advertisements are fast becoming the trend as sites like Facebook and Google Ads gradually shift to AI control for data collection, analytics, and targeting. Particularly on a small scale, this could save business thousands of millions a year in labor, so it's probably worth remembering that this sort of tech could replace workers.
But people also need to learn how to write, plan, and track ads. Individuals are also expected to help the company realize how a single ad or campaign affects its bottom line. Education may be another explanation that businesses want employees who are well versed in particular styles of applications.
A modern Audience Management as a Service (AMaaS) software called Adex, for example, optimizes the audience of Google and Facebook advertisements. It can select the most appropriate channel. It uses large volumes of data to refine and target conversion ads and has done a lot to boost performance.
What's Your Approach?
If you see automation as a danger, and you're not ready to learn how to use this kind of tech. Then your work could be under threat. But suppose you're on the ball, and you're actively evolving. In that case, you'll be able to use automation to your benefit and learn new skills to become more competitive on the market.
Technology is continually changing, and businesses need to pay attention to on-going learning opportunities. This is to prevent laying off those who do not seem adept at technology.
Many who can adapt and train their teams quickly and learn how to use modern technologies would be more effective. Yet, we all need to be prepared for these shifts, and this requires a proper preparation.