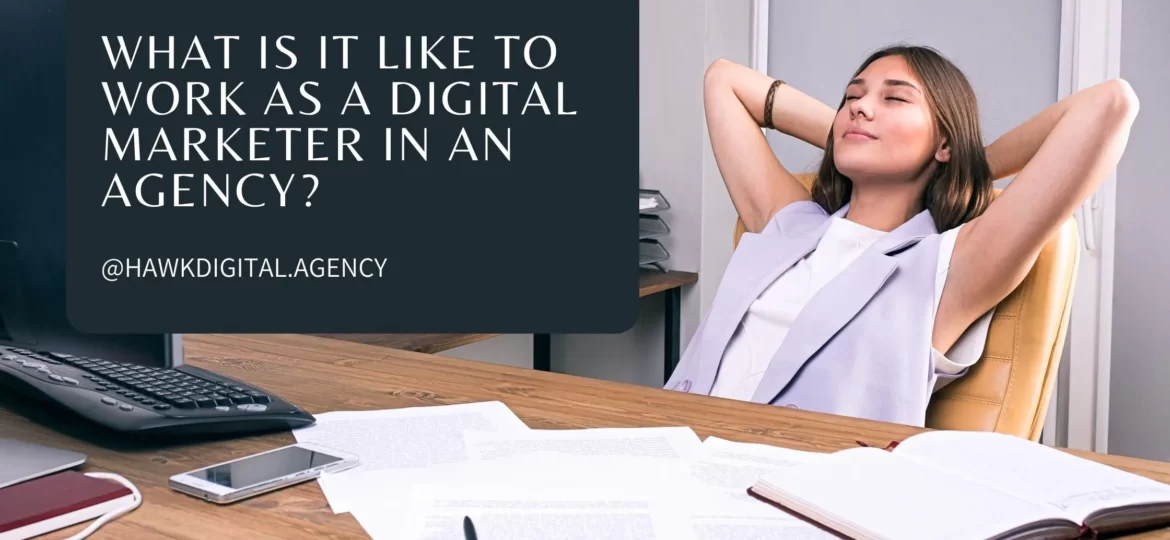 What is it Like to Work as a Digital Marketer in an Agency?
Digital marketing is a fast-paced and exciting industry dedicated to brand development and lead generation.
Digital Marketers promote products and services in the digital realm. 
You will find yourself constantly evolving learning throughout your journey as a digital marketer. The highly active job draws in many people throughout the year.
Here are a few attributes necessary to be comfortable in Digital Marketer in an agency.
It would be best if you were self-motivated.
The marketing environment is always changing, so you need to be comfortable working in a constantly alternating space.
Outstanding communication skills are a must when conversing with clients.
It would help if you were open to learning.
You must have practical knowledge and experience.
Creative work should be something you do every day.
You must be comfortable with teamwork.
Passion
Being passionate about something will make you find ways to make it interesting.
If you are passionate about digital marketing and comfortable with e-commerce on the internet, then becoming digital marketer is the right fit for you.
It will give you a huge area to learn in and improve your skillset.
Training and Experience
Working as a digital marketer in an agency means working amid a fast-paced and evolving industry. Marketing agencies and corporates are always in the lookout for highly trained and experienced employers.
The more trained and experienced you are, the more your pay might increase.
Flexibility
Most of the digital marketer jobs provided by many multi-national organisations are highly flexible.
You can choose your geographical location as in work-from-office, or work-from-home set a schedule and coordinate the timing of your meetings. 
Challenging
Your agency will provide you with multiple clients or brands at one go, so you do not feel bored. You will be facing constant challenges in your work.
Each client will have individual goals, and expectations and multiple projects will keep you on your heels at all times.
You will find your mind constantly racing to finish goals and not bored at all.
Strategy and Planning
Working as a Digital Marketer in an agency will need you to be a strategic planner to execute tactics.
Planning strategies to achieve your goals, as well as the client's objectives, is an important part of a digital marketing role.
Creative Independence
The job of a digital marketer requires you to come up with fresh ideas and tactics to promote content, products and services.
The agencies are always on the lookout for new ideas. This job offers you a whole world of creative freedom. It would be best if you always were on the lookout for ongoing trends and how you can innovate an age-old idea. 
Be Analytical and Accountable
Being detail-oriented and focused on results is a good characteristic of a digital marketer.
You will need to coordinate and make deadlines with multiple clients and be accountable for the work you do.
Analytics distinguishes digital marketing industry from the rest as you will know if you are achieving your objectives or not. 
Always Growing
As mentioned before, digital marketing is a fast-growing industry, and the whole prospect of working there is exhilarating, so you need to keep evolving and learning to keep up.
You may have to always be on the lookout for new search algorithms, new social outreach techniques to stay on top. Acquiring skill for digital marketing is the stepping stone to an entire array of learning.