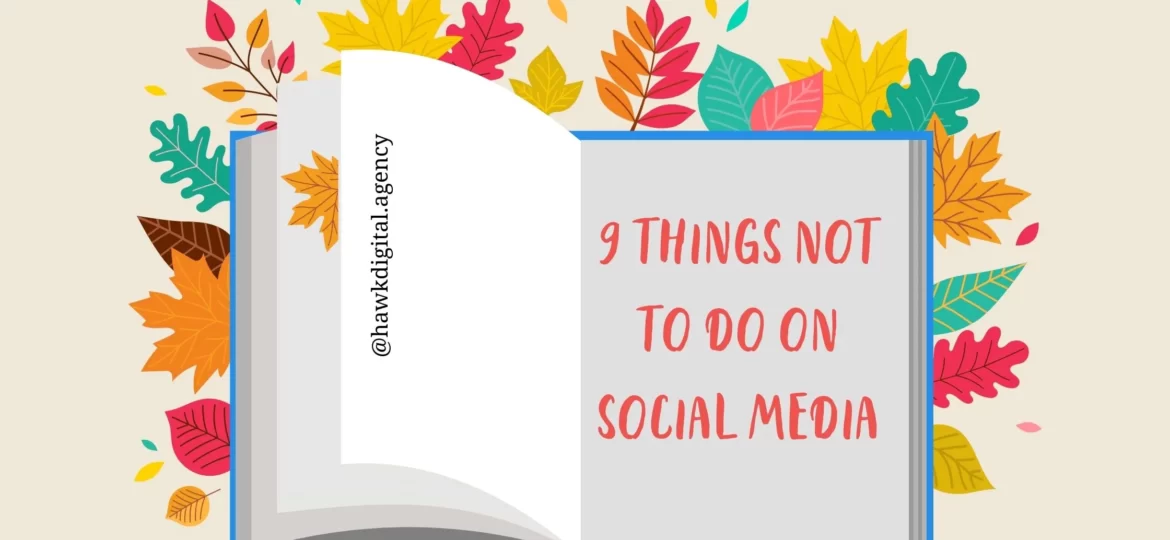 9 Things Not to Do on Social Media
If you are a new business and marketer looking for social media marketing platforms, it can get quite tricky handling various platforms. We let you figure out space, but here are 9 Things Not to Do on Social Media.
Since social media is a space for everyone to voice their thoughts and opinions from behind a screen, there is a lot of negativity. Luckily, even if there is any mistake, you can make it up to the viewers.
Here are the 9 Things Not to Do on Social Media, these mistakes could cost you.
Forget to Edit
Always proofread and edit whatever you are going to post before posting it. Every post and tweet by your company forms a permanent image in the digital marketing footprint. Miscommunication can severely change the view of your brand.
Sometimes, what you post wrong and delete will be staying on as memes or screenshots. For a good impression of your brand on any social media platform, be sure to proofread and edit.
Post the same everywhere
It may seem very easy to handle things when posting the same thing on every social media platform. But this does not take you anywhere. Be aware of the differences in each forum. Each social media app is designed differently.
If you are looking for a mass audience, Facebook is the way to go. However, a target for a younger crowd and if you have a specific audience in mind, you can use Snapchat, Instagram, or TikTok; if your audience is a professional group of people, LinkedIn can be beneficial.
Make sure to branch out and have a diverse strategy.
Marketing without strategy
Always have a business plan in mind, even for social media marketing. It can hello define your goals and map your way to success. Significant concepts to keep in mind are:
Target audience
Content schedules
Communication tactics
Time Investment
Referencing Sensitive Material
A part of social media's charm is its relaxed atmosphere. Buyers and companies can have informal interaction. Despite the casual conversations, make sure to avoid sensitive or offensive topics. Being careful and not doing this on social media can keep your reputation intact.
Ignore Negative Feedback
Never ignore the negative feedback that comes your way. It is a way of inputting customer experience. If there is a problem with the brand or product, the customer puts forward to issue an apology right away. One complaint on social media will be visible to millions of others, and if you don't respond to it, your reputation is at stake. Here is how you can deal with negative reviews:
Be honest about the mistake on your side and apologize. Promise to rectify it as well.
If necessary, do the refund.
If there is nothing, you can do about the problem at hand, the least you can empathize with the customer.
If the negative review is obscene and offensive, keep your calm and stay professional.
Formality
Staying professional and staying formal are two different things. Engage with customers as much as you can and leverage the platform. Do not wait too formal, which can push away people on social media. Use humor and experiment on the platforms. Create engaging content that involves audience interaction.
A Barrier between Social Media and Homepage
Web presence is a pot of all the online handles you have. Your social media pages, blogs, press articles, the website is all supposed to be linked. Maybe the content in each of these platforms cant be controlled, but for those that can be controlled, connect it. If there is a barrier between two social sites of your company, you are bound to lose traffic.
Not Monitoring Automated Tools
Automation tools have bugs and human error, so do not forget about it once you schedule posts in them. Have a human keeping track of the automation tools. This avoids unnecessary mistakes and mishaps. If there is no help available, do keep a check on them once or twice a month.
Take a Political Stand
Social media is used easily as a platform for political debate. As an individual, it may be sufficient for you to post about your preferred party; however, a brand should remain neutral. Celebrate National pride or post about going and voting, but try and stay away from taking a firm political standpoint.