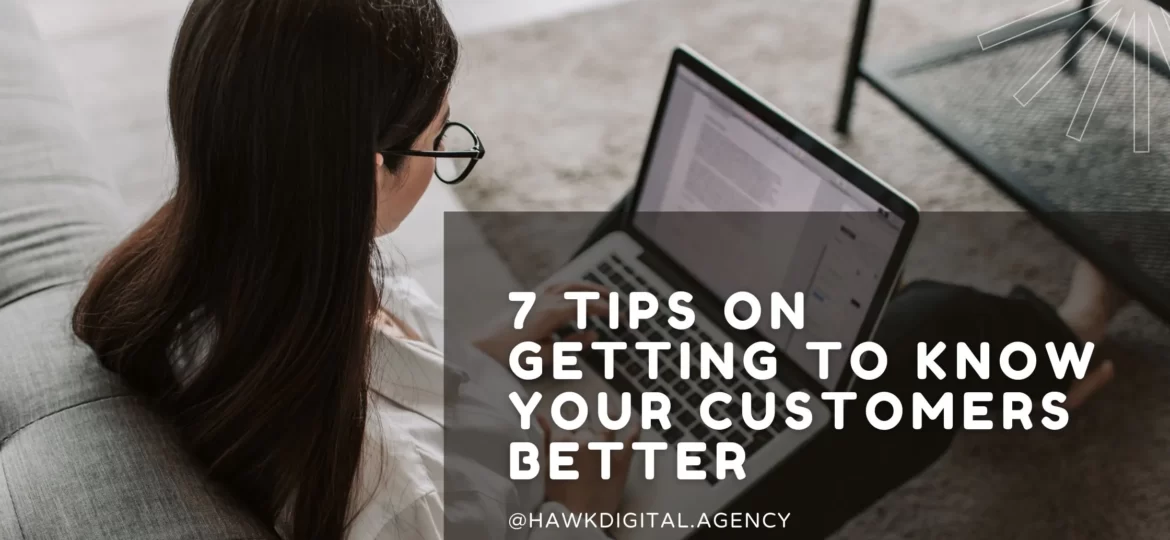 7 Tips on Getting to Know Your Customers Better
Get to know your customers day is an event that happens every quarter. Thus this event happens four times a year, on the third Thursday of every quarter. Now you must be thinking why we can get to know our customers. The blog will give you 7 Tips on Getting to Know Your Customers Better.
Why do we need to know our customers?
At this point, it is essential to know why building a strong customer relationship is necessary. Customer engagement is critical to create brand loyalty and to drive repeat business. Individual business enterprises also like to think of specific ideas that their customer wants specifically. If you know your customers and ask them what they would like, they would feel special and will also play a role in increasing the audience for your brand. Thus, customer service is an integral factor in brand loyalty. According to statistics, 90% of CEOs think that customers have the most impact on their business. It is necessary to keep the customer satisfied and happy.
It is essential to know that if you do not reach out to your customers personally, there is a high probability that they might lose interest, which will make your brand and audience diminish. To avoid such circumstances, we will provide you some tips that will help you get to know your customers better, and you will be able to understand and be able to reach out to your customers in a better way.
7 Essential Tips to know your customers
On "Get to Know your Customers Day," there are some tips that you can follow to get to know your clients or customers and build a relationship with them.
1. Get analytical across touchpoints.
A touchpoint is a moment when an interaction happens between the customer and your product, service, or business. This happens through your website or social media platforms or digital media. You can get to know through Google analytics or social media analytics about your audience. Using these statistics, you can build up a report and use it to build profiles or personas for different customers and improve marketing communications. You can always find touchpoints by putting yourself in your customer's shoes and thinking about your product from their point of view. 
2. Spark up a dialogue 
We all know that the best way to get to know your customer is by starting a conversation with them. There are many ways in which you can understand the requirements of your customers. You can do this by carrying out polls and surveys on different social platforms. One of the most powerful methods that are seen today is conversations through user-generated content (UGC). UGC is any content- text or photos that are created by people, rather than the brands. One of the top benefits of UGC is that it makes a social presence for your brand. Seeing content from real customers also increases the credibility of your brand and can target more audience.
3. Respond to reviews personally
Referring to the previous point, when customers take up a social media platform, they might have their reviews. These reviews can be positive or negative. Regardless of your customers' post, it would be best if you were dedicated to providing them with a response in the right way. If you respond to them personally, it will make the customer a little satisfied. Still, if you respond to the customer's reviews on a public platform, there is a possibility that the answer will dehumanize the brand. To save you and your brand from diminishing, you must respond to reviews personally and on a positive note.
4. Don't make assumptions.
One of the primary things that need to be kept in mind is that you should not make any assumptions based on your customers. Will make your customers feel disrespected. Thus, you can use surveys or have a conversation that will help you to understand what customers want. It will make your customers happy and also will be more interested in your brand and products.
5. Tailor your deals, discounts, and incentives
When you are personalizing products and building relationships with your customers, they expect special discounts and deals for them. By using these personally tailored deals and discounts for your customers will create a bond with your customers. This will make them trust your bond and keep you in mind when they think of your products. A vast majority of today's customers only respond to deals and discounts while purchasing products.
6. Identify and act on customer triggers.
One of the most important things to remember is that you should never wait for customers to get to you. Instead, you should get to them. A customer who is engaged always spends or would like to spend. Identify your most important customers and keep a check on them from time to time. 
7. Connect with customers on social media 
Social media attracts a vast audience, and it will help you expand your brand and make others aware of your brand. Also, social media marketing and purchases are high in number. The more people know about your brand online, the better it is
These were some tips that would help you to get to know your customers very well. In addition to that, you will also gain a large audience if you build a strong bond with your customer. A customer feels special when given personal treatment. Therefore, you should always get to know your customer. Look forward to building a strong relationship with your customers on this "Get to know your customers Day"!