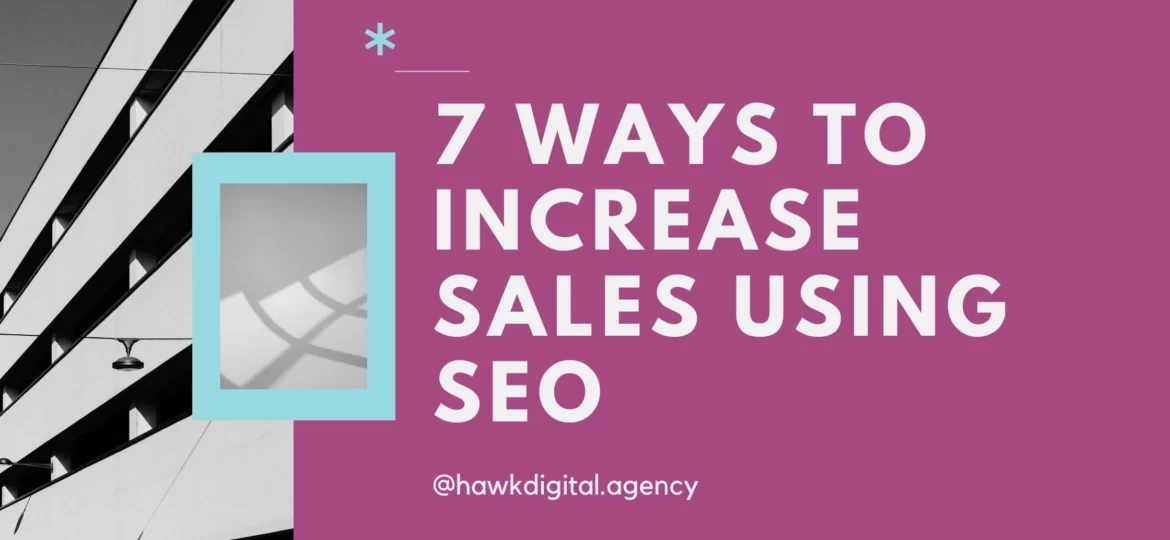 For any business to make it to the top, sales is very crucial. The digital age and modern-day scenario requires the company to be digital so it can be successful. SEO is an essential part of digital marketing, and in this article, we give you 7 Ways to Increase Sales Using SEO.
The success rate of E-commerce has been steadily increasing over the years and is expected to keep rising as well. If you want your business to succeed in the context of e-commerce, it is crucial to have a robust search engine optimization strategy.
Being aware and implementing cutting-throat SEO techniques will give you an edge in the e-commerce business. The chances of getting noticed online are very high, and you also have the edge of finding the right potential customers.
KEYWORD KNOWLEDGE
Keywords play a crucial role in the equation. If you don't have the right keywords, your website and business will get lost among the millions of other similar sites in the search engine. 
Your business must analyse and use the relevant keywords related to your company and implement them in your:
Content
Web Pages
Headings
URLs
Metadata
Emails
Page Titles
Image Descriptions
Google AdWords is a great place to start researching keywords. When you have the right keywords, you can connect with the right audience for your product.
CONTENT CREATION
If you have great content in your website, you can use it as a tool to convert prospectus and use it as a shareable resource to reach new and broader audience.
When potential customers search for a product or information about any service online, they will have a a lot options on like social media pages, blogs, websites and a lot of similar content that can answer their question or is related to their search. When you have authoritative and the most engaging content of the lot, chance of customers finding and reaching your brand at the top of their search list is very high.
You should engage audiences with a variety of great content:
Blogs
Videos
Animation
Podcasts
Infographics
User-generated content
Ebooks
Lists
Product Reviews
How-to guides
Content is the centre of inbound marketing. Content can help increase sales using SEO. With engaging content that quips the interest of potential customers and has been optimised with the right keywords, there is a high chance of increasing your sales.
SOCIAL MEDIA
Social media is a fast-growing strategy and a comprehensive element of modern SEO. The growth is because of the most massive audience turning to these platforms to purchase products they like.
Social media platforms give you a huge platform to find new potential customers, build new relationships with customers.
Social media is most helpful as it can be used as a direct marketing method. It gives life and vibrance to your product and the ways it can be used.
MOBILE AND LOCAL CONTENT
Going local and going mobile has become two significant changes to SEO. These two go hand in hand. 
Local SEO is essential as many customers use mobile devices to search for a business. 30% of all searches have a local intent, and 70% of the searches visit the local places they search for. 
So if you want customers to physically visit your business or drive to it, local SEO and being mobile-friendly is the way to go. 
ON-PAGE SEO
To increase your sales, you must pay attention to on-page SEO. It makes your site user-friendly and makes it easier for search engines to index your page. On-page SEO increases your site's ranking and will help you focus on optimizing essential skills like visuals.
Here are the essential steps of on-page SEO optimization:
Creating unique title tags
Increasing load speed of page
Writing keywords optimized alternative text for images 
Optimizing headings with keywords
Using sensible and easy to read URLs
Writing meta descriptions to improve visibility
MANAGE YOUR REPUTATION CAREFULLY
Reputation management is an essential element that should not be ignored when talking about SEO. Reputation management is controlling what people see when they look for your business and its website online. It is a very important way of increasing sales using SEO.
It is all about putting your best foot forward online when customers are looking for you.
Reputation management can be done by:
Being professional at all times
Regularly reviewing online reviews
Responding to negative reviews politely and professionally
Encouraging positive reviews from satisfied customers
STRATEGIZE
If you want SEO to boost your sales, you must make it your full-time commitment. SEO doesnt work if you do it part-time or with fewer efforts.
You must be intelligent, dedicated, and have a solid strategy to leverage the best out of SEO.
Get a team in place and make them familiar with all the nuances of SEO. They can examine the goals of your company and suggest and plan a long-term strategy to achieve them.