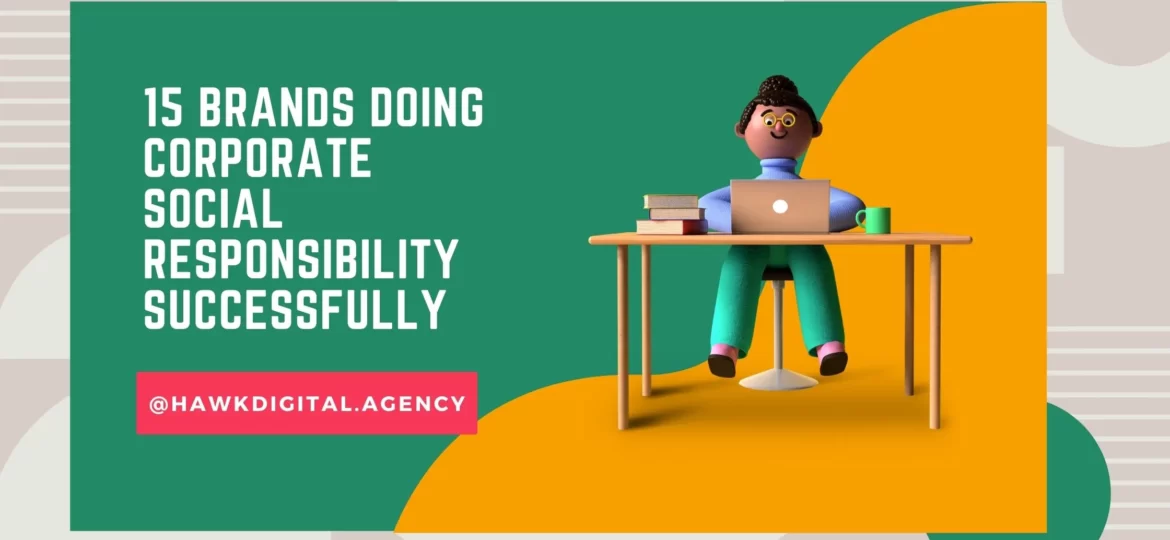 15 Brands Doing Corporate Social Responsibility Successfully
In this post, we mention 15 Brands Doing Corporate Social Responsibility Successfully. Corporate Social Responsibility (CSR) allows businesses to enact positive change. When using a product of a socially responsible company, customers feel like they are doing their part. 
The mentioned brands have a stable and supportive consumer base as they are socially responsible. 
CSR usually includes reducing carbon footprint, improving labour policies, charitable giving, participating in fairtrade, volunteering, corporate policies that benefit the society and the environment and social and environmental conscious investments.  
CSR builds trust, raises awareness and encourages social change. When the companies and their products are socially right, they have far-reaching results that impact major issues in the world.
THE MILLENNIALS AS CONSUMERS
The Millennials and Gen Z community is on the lookout for socially responsible companies. They want to see companies that are socially invested and care about the environment. 
Companies should share transparently the various ways they are being social so the public is aware of what is going on. 
Showcasing efforts is also important as it affects the consumer decisions the Millenials make.  
ACTIVISM
Activism from the Millennials also brings about changes in the CSR of companies. It may make more companies aware of the CSR they are not following or it can improve the already existing CSR trends of a company. 
The areas of activism have a wide range of topics covered. The #metoo movement about harassment and discrimination in workplaces to creating awareness about rising global temeratures, activism has spurred quite a change in the past few years. 
Companies are becoming aware and also speaking out about social injustices and policy changes that negatively impact the society or the environment.
The 15 Brands Doing Corporate Social Responsibility Successfully are given below:
Innovation: Johnson & Johnson
The global giant Johnson & Johnson is one of the greatest CSR examples. They have been harnessing wind energy to provide safe water to companies.
They have focused on reducing their impact on the planet for the past thirty years.
The purchase of a privately owned energy supplier in the Texas Panhandle allows the company to reduce its carbon footprint all the while providing renewable electricity.
They have gold to produce 35% of their energy through renewable sources and are on the lookout for ways to do the same.
Google
The CEO of Google, Sundar Pichai is known to stand up against social issues. Google also earned RIs highest CSR score due to their data centre using less than 50% energy than the rest of the world.
They have also committed over 1$ dollars to renewable and sustainable energy projects.
Coca-Cola
Coca-Cola's chain of delivery trucks contributed to a massive 3.7 million metric tonnes of greenhouse gases to the world.
Since then they have changed their supply chain practices and are looking out for alternate fuel sources.
Their initiatives are intended to reduce their carbon footprint by 20% by the end of 2020.
Ford Motor Company
Forb plans to use Ecoboost engines to reduce the greenhouse gases emitted by their vehicles. It also increases fuel efficiency. 
They plan to introduce 40 electrically run vehicles by 2022.
American Ford dealerships rely on solar PV systems and wind sail to power their location instead of electricity.
Netflix + Spotify
In the social world, Netflix and Spotify offer incentives and benefits to support their employers and families. Netflix offers 52 weeks of paid parental leave which can be taken at any time the employer wishes to.
Spotify offers 24 weeks of paid leave.
The number of weeks is quite high compared to other companies that only offer around 18 weeks.
Pfizer
Pfizer takes it's CSR initiatives as a core part of the company and terms it corporate citizenship. 
They raise awareness on non-infectious diseases and provide healthcare for women and children who do not have the right resources.
Wells Fargo
1.5% of the yearly revenue at Wells Fargo goes to charitable causes. They made $285.6 million in 2017 to thousands of non-profit organizations. 
They also offer employers two paid days off to go donate to a charity of their choice.
TOMS
TOMS has a mission of donating one pair of shoes for every sold pair, which has resulted in the donation of over 60 million shoes to the children who need them. 
Further, the profits are used to assist visually impaired people by providing prescription glasses and medical treatments, provide clean and safe drinking water and build business in developing countries for employment.
They are also against bullying and have strong anti-bullying advocates. 
Bosch
Half of the R&D budget at Bosch is dedicated to environment protection technologies. 
Through Bosch Energy Research Network ( BERN), they have raised over €50 million to support universities and projects focused on mobility, environment and energy, across the world. 
GE
General Electric launched Ecomagnetization over a decade ago, a renewable business strategy with a mission to double down on clean technology and generate $20 billion in revenue from green products. 
Since then, they developed the Evolution Series Tier 4 Locomotive that reduces emissions by more than 70%. 
Starbucks
Starbucks has been on the lookout for diversifying their workplace. 
By 2050 it has pledged to hire over 25,000 veterans and more younger employers as a part of their CSR efforts and to "jump-start" careers respectively. They also plan to hire over 10,000 refugees by 2022.
New Belgium Brewing Company
A brewing company owned through stock ownership is focused on sustainability. It uses solar panels and wastewater to generate 18% of its own electricity. 
It also contributes to bicycles and eco focused organizers. 
The Walt Disney Company
Disney has committed to zero greenhouse emissions, zero waste and water conservation to overall reduce their carbon footprint. 
They also actively monitor International labor policies to protect the safety and rights of their employers.
Lego
Lego plans to invest over $150 million over the next 15 years. Their focus is to address climate change and reduce waste.
They have also reduced packaging and alternative sources of energy . They plan to source 100% renewable energy by the end of 2020. 
These are some of the companies trying to do their part in the social domain. They have a moral and social responsibility to protect the planet and improve the quality of daily life.