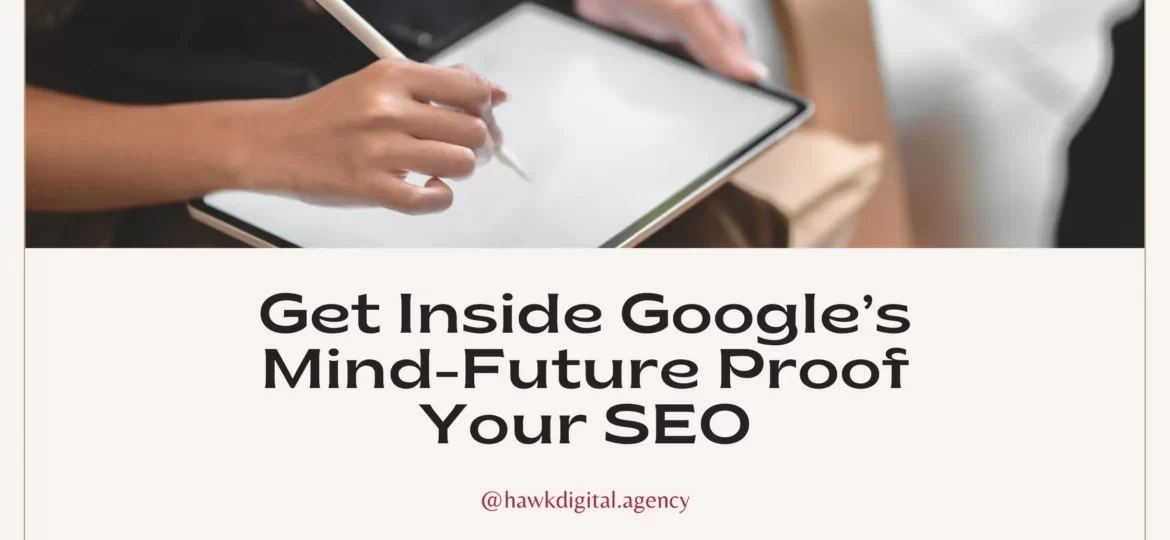 Get Inside Google's Mind-Future Proof Your SEO
In 2014, Google put down techniques like link building, thin content, and other blackhat SEO procedures that many websites had been using to up its game in search engine rankings. This blog is going to tell you how to Get Inside Google's Mind-Future Proof Your SEO.
SEO managers and services saw their client's rankings plummet down. Business owners were in a state of panic. Those who knew what was going on were a few smug SEO individuals who were keeping up with Google's rules.
The mentioned ways will help you get inside Google's mind and future-proof your business website's SEO, to stay on top.
Google's Mission
Google's mission is to organize the world's information and make it universally accessible and useful.  To get inside Google's mind it is crucial for you to understand its mission. To implement an SEO strategy that will not fall even with the changes in Google, you must focus on the end-user. 
Ways to focus on end user:
Creating quality content
Having relevant links and videos for better understanding and more information
Have a conversational tone that personalizes the experience
Compatibility is key. Design your website in such a way that it is compatible with all devices
Perform local SEO
Build relationships with customers and actively help them out wherever necessary
Live by Google's Rules
You need to get a grip of Google's rules and live by them if you want to get into its mind. Google Webmasters Guidelines will give you everything you need to know on the best technical and content practices. The guideline and outlines clearly state what is to be done to stay out of Google's penalty. 
Here are some of the guideline:
Apply a canonical URL for duplicate content, indicating the page to be indexed by search engines.
Google views low-quality guest posting as spam
Use nofollow links for untrusted links and ones you don't want to be crawled
Fix broken lines and HTML
Use text rather than images to display important names or links.
Loopholes set you back
A large number of rules and the time-consuming nature of the work can prompt you to take shortcuts. But be aware that shortcuts will set you back. Any new Google update can put down your rankings super fast if there are shortcuts.
The best way to stay in the game is to stop using practices that mislead users.
Loopholes and shortcuts look like this:
Spam content
Small text and hidden links
Keyword stuffing
Link schemes
Doorway pages
Cloaking
Think Human
Google basically wants you to think like a human and not a search engine. To get inside google's mind -future proof your SEO think human not computer. The basic intention behind a new update is to be more human-like. Search engines are so smart they can figure out the intention and the context of human queries. The ultimate intention of Google is to think like a Human.
Queries to keep in mind to think like a human
Is it easy to navigate through my website?
Do the keyword phrases help users find what they are looking for?
Is the content genuinely helpful?
Does the meta description correctly portray what my text is about?
All Google wants to create is a reliable and valuable experience for the user. Getting into its mind is very simple, just get into your customer's head.