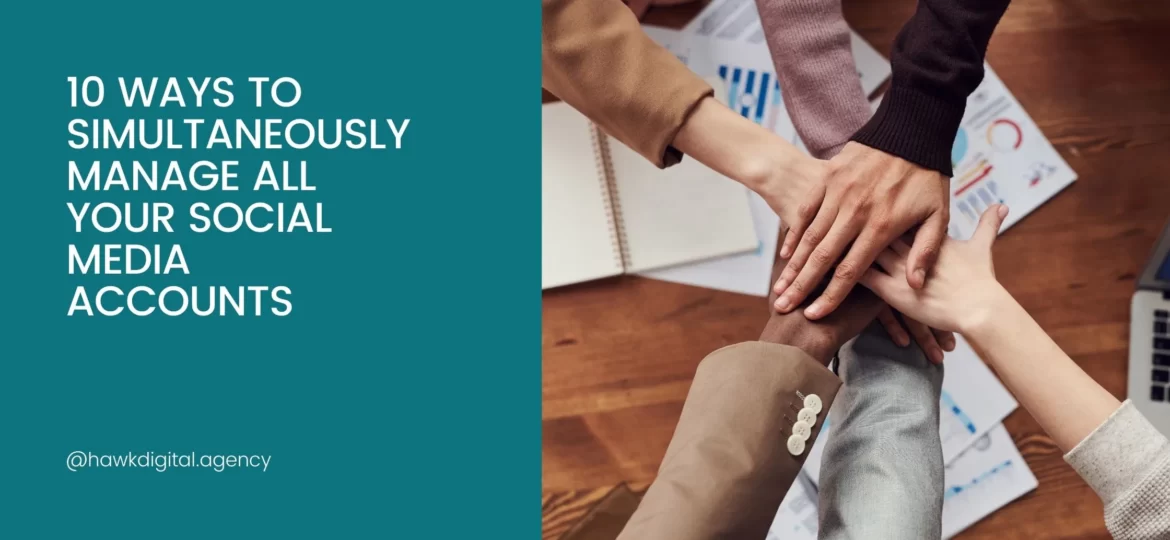 10 WAYS TO SIMULTANEOUSLY MANAGE ALL YOUR SOCIAL MEDIA ACCOUNTS
Today many companies are using social media to engage with clients and customers, after realizing its long-term benefits. However, the challenge many faces is how to maintain a large and interactive online presence. We provide 10 ways to simultaneously manage all your social media accounts.
The practicality and feasibility of daily updating the social media handles like Twitter, Facebook and Instagram may pose an issue due to the effort it takes and the amount of time it consumes. 
This is where the programs and applications enter, letting you display, manage, and update all your social media accounts. There are a variety of platforms that aim to simplify multiple social media handles. We give you the best ten among the lot.
Tweetdeck
Tweetdeck is a free platform by Twitter. It can be downloaded as a Chrome app on your desktop or as a normal app for iPhone and Android. Accounts can be arranged on the app in your order of choice. It will also be displayed in an easy to read, manageable format. Tweetdeck also boasts of filters and you can schedule tweets. Scheduling tweets is considered very helpful in many companies and offices to target a wide market in different time zones.
Hootsuite
Hootsuite is said to be the "leading social media dashboard to manage and measure all your social networks." Currently, it has over two million users. Some of them are high profile names like The White House, Fox, and Time. You can choose the basic free option or also pay for the 'pro' version.
It targets brands rather than individuals. It also boasts of features like analytics, automated reports, a custom dashboard, team collaborations, and availability in a number of languages. 
The platform also has its own well-maintained blog, library, and events page.
Bottlenose
Bottlenose is a new platform founded recently in 2010 by Dominiek Ter Hiede and Nova Spivak. It is doubtful to use Bottleneck as an immediate tool for the management of accounts as it is still in private beta. However, if you sign up on their website, they will send you an email invite as soon as they can. 
"Stream Intelligence" and "Social Assistance" are Bottlenose's buzzwords. Sonar is its very impressive and interesting interface which is a new and engaging way of presenting various social streams and information. 
MarketMeSuite
A social media dashboard targeted to marketing users, MarketMeSuite is a free service. The site allows small businesses to manage their social media accounts, and create new leads, build relationships with their existing and new customers.
The site also features location targeting and cloud targeting. You can schedule tweets on Android, iPhone, and Blackberry via Google Calendar. The site is accessible and easy to use.
SocialMention
SocialMention is a search and analysis platform, rather than a dashboard like the above-mentioned sites. The page presents you with a search bar where you can search for your brand or company name under a number of categories like blogs, microblogs, networks, and news without the need to download anything.  
The feedback option provided under four options as 'strength' 'sentiment' 'reach' and 'passion' helps assess your business online presence in a number of ways. API and daily social media alerts are also provided.
Seesmic
Seesmic is available on Android, iPhone, and Windows phones however are best downloaded in windows. A blog on Seesmic details the updates of the app for updates of Windows Mango, making it special for WIndows phones. 
A look through the Seesmic blog can easily provide you with more information about its functions. It is not an information-heavy blog that is hard to comprehend. The "about" page has three simple and concise lines summing up the platform. 
Digsby
Digsby has a cute widget with a very colorful site. The main emphasis of Digsby is based on interaction with friends so it may not be the best suitable app for businesses. 
Yoono
Yoono promotes and enhances your interaction with online friends rather than businesses, like Digsby. Facebook, MySpace, YouTube, Twitter, and Flickr are supported by it. Yoono app also offers a variety of formats. 
It can be downloaded as an iPhone app, or on Firefox or Chrome. The iPhone app has two options, a paid app or Yoono free which features ads. Yoono app has an impressive number of over five million downloads.
Netvibes
Netvibes is specifically aimed at business users, targeting agencies, and enterprises. The platform has been around since 2005 and pioneered the first personalized dashboard publishing platform. 
Netvibes has a paid premium version along with a free basic service option. The paid premium option offers a wide variety of analytics, curation, collaboration, and sentiments. It also has high profile customers like L'Oreal and Lufthansa. They also have a lot of awards in the bag.
Ping.fm
Ping.fm is a platform aiming for a simple service at simultaneously managing all social media accounts. Ping.fm was seized by Seesmic in 2010 and still remains an easy option for those looking to update their social networks in a simple way. It has no analytics or dashboard. The app is free to download and is compatible with major social networks like WordPress, Photobucket, and Tumblr.