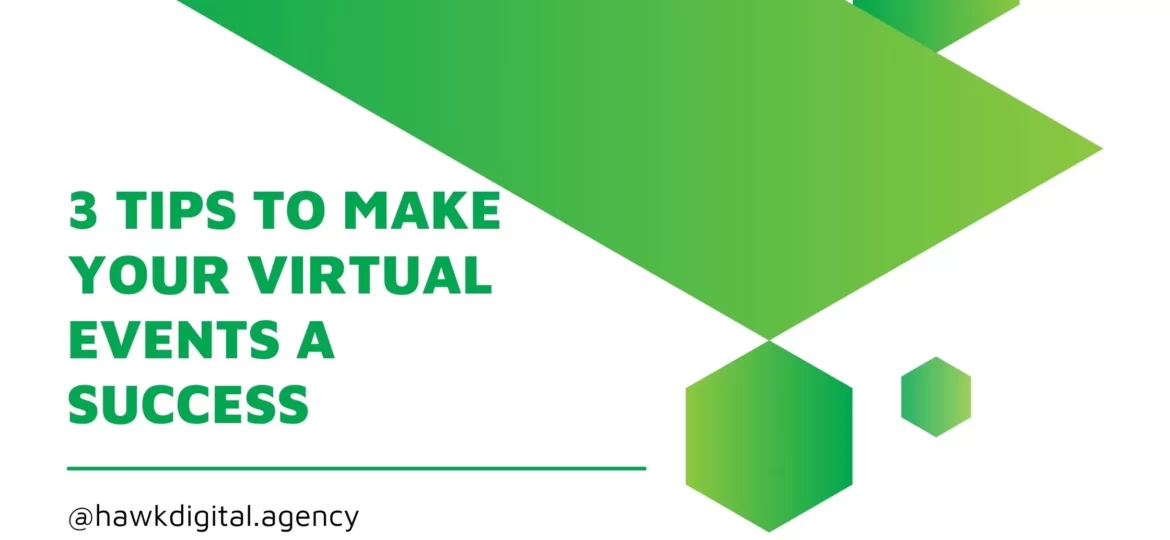 3 Tips To Make Your Virtual Events a Success
With the pandemic still gripping the world in its hands, there is a high demand among companies to convert offline meetings online. We give you 3 Tips To Make Your Virtual Events a Success.
With easy access to technology and the internet, along with access to new and innovative platforms, hosting events virtually is very straightforward.
If you are looking to host easy and cool online meetings or are keen to find out how to host events digitally, we give you the tools and tips to make your virtual event a success.
#1 Choosing a platform
Choosing a platform suited to the type of event you are hosting along with the budget is very important. If you have the right platform, then you are well on your way to having a very successful event. This is why it is the first and important tip to make your virtual event a success.
Beginner
For a quick solution to a last-minute event, it is best to leverage a social media platform. Try using Facebook, youtube, or Instagram live. 
Facebook live helps broadcast the event or meeting in the company's profile or any group. With billions of users active every day, Facebook is still one of the largest social media platforms. Facebook already probably has the target audience you are looking for. IF the event is recorded, it stays on the feed, helping someone who missed out on the event to watch later.
Instagram Live is a very interactive tool that helps you go live with your followers in real-time. It is quite a popular choice among celebrities and influencers. 
Youtube live is also a great way to connect with users. Youtube bridges social media and search engines. On youtube, the video stays findable and evergreen.
Advantages of beginners platforms are that they are ready to go option. They are simple and easy to use. They are free and give you direct access to the target audience. 
These platforms also have a few disadvantages. You cant stream on multiple devices. On Instagram or Facebook the live comments, queries, and likes are lost. 
Intermediate
Zoom and Google meet are intermediate platforms you can use to create conference rooms, team meetings, and webinars. 
Zoom is a web-based collaborative video easy-to-use tool, It offers OnA, polling, and a virtual hand-raising feature. It has free and premium options.
Goggle meet is a part of Google's G Suite. It is a very professional tool having features similar to zoom.
The advantage of intermediate platforms is that they add more value to the event with more opportunities for networking and user engagement. Both the platforms aim for user participation and you can also encourage attendees t become panelists.
When used professionally, both the platforms have a running cost aking it a disadvantage. Zoom is also said ot have security issues.
Advanced
If you are looking for greater user interaction to mimic an offline event, we have two platform suggestions. 
Whova is a platform that aims to put intelligence into event management. It has a lot of interactive features like live polling, surveys, name badges, and quizzes. 
Slido is an enhancing option that can be added to Zoom. It boasts of in-depth analysis and a smooth interface. 
GoTo Webinar is a popular online webinar tool used widely for a great user experience in an online event.
The advantage of using advanced platforms is an innovative and immersive experience. It also enhanced brand identity and user satisfaction. 
The disadvantage is that these platforms require significant time and resources. They also have quite a high price point.
#2 Promotion
Develop an event marketing strategy to enhance participation and make your event known among your target audience. 
Email
Email is a great way to promote events if you have an existing contact list. All you need to do is spend time drafting the mail. 
Sending event emails, reminders, and follow-ups can be really personal and bring in a lot of views. 
Social Media
Facebook, Instagram, or Twitter is a fun and interactive way to connect with people. It is also a great place to spread the word about your event among the target audience. 
Instead of just using all the platforms, it is best to think and draft good marketing and promoting strategy for those social media platforms that have the major target audience group.
A great idea is using an event-specific hashtag, that can be used before, during, and after the event. It can be very effective in engaging viewers.
#3 Repurpose your video content
You can add value to the event even after it is over by editing and stitching it into other formats. 
You can convert the event video into a podcast. Or if there are snippets in the event like an interview or small talk, make it into a podcast episode. You can use free tools like Audition or premium ones like Adobe Audition for editing the audio out of the video. 
Another interesting way to repurpose your video is converting it into a blog using Artificial Intelligence tools like Otter and Searchie. 
A short infographic, an insightful quote, or a video tutorial can be put on social media platforms and used to draw people to learn more about the event. They help drive awareness about the product or the event and help promote similar future events.