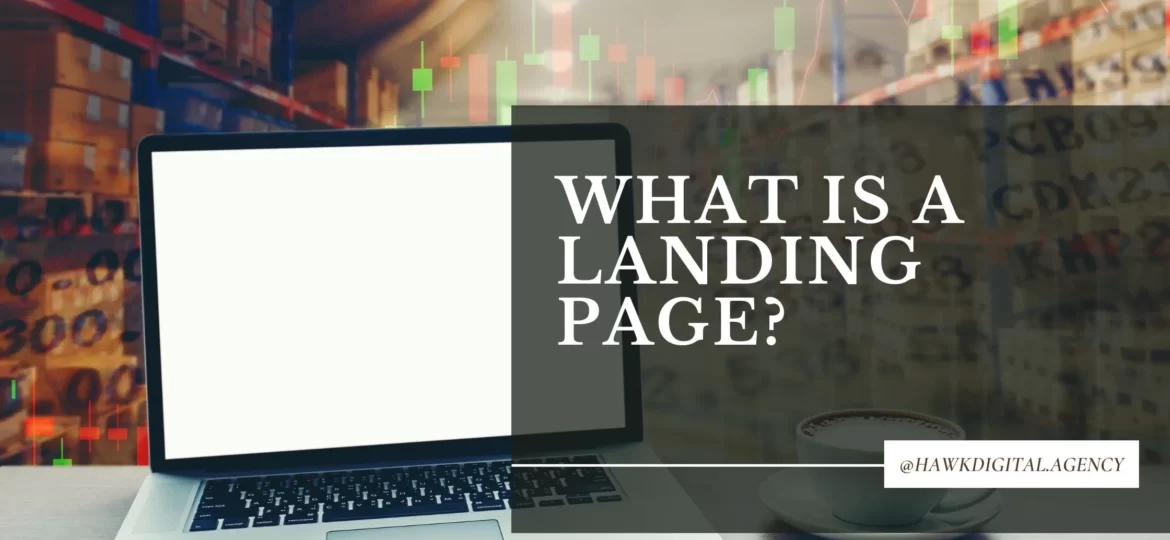 What is a Landing Page?
A landing page is a web page that appears when one clicks on an advertisement. It is where one "lands" after they click on a link in an email or an ad from Google, Bing, etc. Thus, it is a webpage created specifically for advertising and marketing purposes. Unlike standard web pages with various functions, landing pages consist of CTA (Call To Action), which means that they have a single goal or focus.  We explain more in detail What is a Landing Page?
The landing page should thus be representable as it reflects the product that is displayed in the ad. Landing pages are the best options to increase the conversion rates of marketing campaigns. This is possible when the landing page consists of the information shown in the advertisement specifically. Suppose one does not find related content to the one that is displayed on the site. In that case, there is a possibility that the customer might get frustrated while searching for the product that's shown in the advertisement.
One must try to test multiple landing pages so that it can help increase the conversion rate and help optimize conversion rates. If you want more people to land on these pages, you should make the content more relevant to the advertisements, and you must think like a searcher. Thus, to make the content reach targeted audiences, you must think of phrases and specific words that might bring the searcher to your landing page. 
HOME PAGE AND LANDING PAGE- THE DIFFERENCE
The difference between landing pages and homepages is that We use Homepages to show off the brand and look better than a landing page. Still, landing pages are critical as they attract the maximum audience to your pages and increase your brand awareness. Also, the landing pages have a higher number of purchases made when one visits them rather than homepages since there is a high possibility that the customer might look at other links rather than the one they are interested in.
And as we know, any customer chooses Quality over Quantity, which means that landing pages would have a better quality of individual products than homepages that consist of a large number of links and might not thoroughly display certain products.
Keep these in mind
Have an objective in mind
A clear call-to-action must be there
Find out ways by which you can grab attention of your target audiences and how can landing pages be more effective 
Find out phrases and words that will help audience get to your products
Always think of the customer journey, and how they would think if they see your page as well as your products
A landing page is strong when they are able to explain different offers and are able to explain further about the desired products. You must also use proper heading and subheadings to make the content more specific and easier to understand.
You must always keep a simple layout so that a user can easily find the desired information in a simple manner
What to add in a landing page?
Information that must be added in a landing page is very important to catch the attention of the users and should contain some certain elements that will make the page effective. Some of these are:
A proper headline and proper subheadings wherever required
A brief discussion of what was in the advertisement. Some additional information that is easy for the customer to go through. Describe the product in a good manner.
A photo or a short video of the same as it may give a clear image of the product.
Remove any extra information or navigation. It might confuse the customer or decrease the conversion rate of the landing page. Never make the homepage as the landing page. As mentioned above, a landing page has many links and can decrease the conversion rate.
Always keep the objective clear and simple. It is easier for the customer to navigate through the landing page and improves the CTA.
When a customer clicks on any ad, make sure that the line that was displayed in the email is also seen on the landing pages. This clears any confusion that might pop up in the mind of the customer.
Create a lot of landing pages. This is necessary so that the conversion rates are high. Also more products are available to a customer that is looking for that particular product.
If possible, you should make your landing pages shareable. So that if one person shows high interest and likes the landing page, they may share it with others,
Thus, these are some important things that need to be kept in mind when creating homepages, advertisements and landing pages. These points will help you to increase the number of audience. It will also help to provide an exposure to a brand.